Superb Chiropractic Care
With A Personal Touch
Chiropractor Glendale AZ
Welcome to Arizona Family Wellness located in Glendale, AZ. Our aim is to bring patients out of pain and into a state of well-being and vitality. Our focus is on educating people within the community so they may better take care of their bodies, and thus, their lives. We believe that identifying the root of the problem is the first step towards healing. Glendale Chiropractor Dr. Moore and his staff work to serve those who want answers and progress with their chiropractic needs.
Our goal at Arizona Family Wellness is that by keeping our community healthy, we are helping to improve liveliness and help to make life more fun for people in their day-to-day lives. If we seem like a team that would fit with your needs and goals, please give us a call, or submit a request form through the website, and we will contact you as soon as possible. If you have any questions or concerns, we would be more than happy to talk with you! We look forward to serving you and your loved ones and are working every day to show Arizona that good health is attainable.
WHY DR. MOORE BECAME A CHIROPRACTOR
Dr. Moore became a chiropractor in Glendale, Arizona all because of a basketball injury at the age of 12. He had severe low back pain that made it difficult to walk or sit down. As a young 12-year old, he was nervous about the long-term damage this injury may cause. Dr. Moore assumed the worst and thought he would need surgery to repair his low back, which would mean he would never be the same again. Luckily, his dad took him to the chiropractor and had his spine adjusted. He was told he could play in his basketball game the next day if he was up for it. Dr. Moore walked out of the chiropractic office with no pain and sat in the car amazed at what happened. Thanks to chiropractic care, he has not had any back pain since that injury. Dr. Moore is a chiropractor today because he wants to share his experience and help others on their path to great health.
WHAT MAKES US UNIQUE
We pride ourselves on excellent communication. We want to make sure everyone knows exactly who we are, what we do, and how much it will cost. Our patients appreciate our honesty, authenticity, and genuine care for their health and well-being. In our office, we also like to have fun, so we often do contests, raffles, patient appreciation, and decorations to create an enjoyable atmosphere!
Our office specializes in the most advanced, gentle chiropractic techniques that include the Impulse IQ adjusting instrument. "This patented and FDA registered device was developed to provide gentle and precise computer-aided chiropractic adjustments to relieve pain and restore function. Impulse iQ® is controlled by micro-computer circuitry housed within the device that produces a controlled force that chiropractors can use to treat different areas of the body. Computer-assisted chiropractic adjusting with Impulse iQ® gives the doctor objective feedback about how your problem area is responding in real-time for custom-tailored treatment just for you. The state-of-the-art Impulse iQ Adjusting Instrument® has a high-tech sensor that provides information from your body's response to chiropractic adjustments to a micro-computer inside to give the doctor feedback about your results."
We are in Glendale, located off the corner of Bell Road and 61st Avenue behind Black Bear Diner. Our building has a large red sign reading "Chiropractor" on it which is easy to see!
Being a Glendale chiropractor means that Dr. Moore sees a diverse group of people. Each person has a unique history and experience that has shaped the way their body reacts to stress and trauma, as well as how their body functions. We see a wide variety of conditions ranging from babies with continuous ear infections, to older adults with arthritis and ongoing sciatica. We work with patients whose condition seems as if they are not related to the spine such as fatigue, high cholesterol, and issues with fertility, yet may notice a significant improvement with treatment.
Dr. Moore has a background in functional movement, meaning that he knows how the body is supposed to move and can help patients to learn how to do basic and complex motions properly. This allows patients to move in a way that feels natural and does not add more stress to the body. On top of movement, nutrition is also an area that needs to be addressed/monitored as what we eat plays a vital role in how we heal. If there are any symptoms of heartburn, indigestion, or issues with bowel movements, then we would love to sit down and figure out what may be causing these issues.
Regardless of where a patient is in their path to health and wellness, we are ready to meet them where they are and create a plan working towards their optimal life.
Chiropractic can be a controversial topic for some people, mostly due to the rumors and misunderstanding behind what chiropractors do. Many people are led to believe that adjustments can hurt or that it makes the pain worse. In most cases, adjustments feel good as the spine is being shifted back into better alignment, thus taking pressure off the nervous system, and allowing the body to function better. We take the precaution of learning about a patient's physical traumas as well as take x-rays if necessary, to make sure the spine is safe to adjust. If these steps are not taken and an adjustment is "blindly" done, it may cause pain in some cases.
The idea that chiropractic care is expensive is another common misconception that has been perpetuated throughout the years. In our office, we are always sensitive to our patient's health and financial needs and work with patients to get them the care they need. With the current model of conventional medicine, only when a patient has symptoms will they receive treatment for their symptoms only, not focusing on the underlying issue. Under chiropractic care, we aim to address the root of a patient's problems and support their wellness goals after their symptoms stop, then set forth to prevent new issues from occurring. We believe the value of long-term chiropractic care is cost-effective in comparison to other methods of treatment.
HOW TO FIND A CHIROPRACTOR IN Glendale
This guide will help you find the best chiropractic clinic in Glendale for you. When most people in Glendale decide they need a chiropractor, they end up doing a search and just picking someone at the top.
Being at the top of Google for the chiropractic search does not necessarily mean they are the best chiropractor for you. Follow the steps below to make sure you are picking the right chiropractor for you.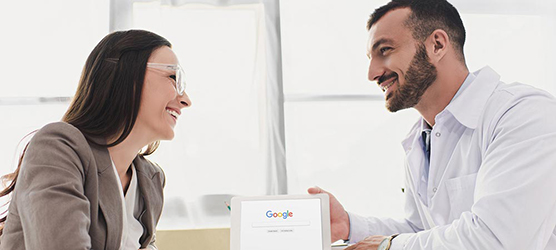 Time Needed: 5 minutes
Total Cost: USD 0.00
4 EASY STEPS TO FINDING A CHIROPRACTOR IN Glendale
Step 1: Open up a Google search
You will want to type one of the following in the search bar:
Chiropractor Glendale
Chiropractor 85308
Chiropractor near me
Best chiropractor in Glendale

Step 2: Review Their Website
The best chiropractors in Glendale put as much care into their website as they do into the rest of their office. By reviewing their website you will get a good feel for the doctor and if they are right for you.

Step 3: Check Out Their Reviews
Check out the Google Business Page of a chiropractic clinic you are thinking about visiting. It is easy for someone to say they are great, it's a different story to get other people to say great things about you.

Step 4: Give The Office A Call
Now that you have a basic understanding of what the office is about. Give them a call to make sure they fit the message that their website and GMB have been sending. You will know in a few minutes whether the office is the right one for you.

TRUSTED CHIROPRACTOR: READ OUR REVIEWS